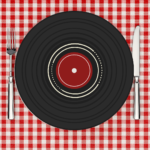 Appetite for Polish
Apetyt na polski
Learning a foreign language is not only about mastering grammar and vocabulary. We'd actually argue that it's way more about having an appetite. The insatiable appetite for new sizzling sounds, refreshing perspectives, zingy concepts, and, of course, surprising flavours. We're confident that once you manage to find it, you'll be practically unstoppable in your learning journey.
Wondering how to develop such craving for Polish? Here we are, coming to the rescue! We whipped up a playlist full of fresh and tasty Polish tunes to boost your appetite.
How many food-related words can you recognize? Do you know any other Polish songs in which food plays an important role? Let us know in the comments!
Just a friendly warning before we dig in: have some snacks at hand, as you might get really hungry!
Here you can listen to our playlist:
Kortez, Z imbirem
The Dumplings, Słodko-słony cios
Bovska, Kimchi
Brodka, W pięciu smakach
Czarno-Czarni, Jedzą rybę
Dubska, Avokado
Maria Peszek, Muchomory
Ewa Bem, Pomidory
Dorota Miśkiewicz, Tuńczyk
Domowe Melodie, Cukier
Smacznego! 🙂
***
W nauce języka nie chodzi tylko o gramatykę i słownictwo. Naszym zdaniem najważniejszy jest apetyt. Nienasycony apetyt na nowe dźwięki, pojęcia, perspektywy i oczywiście na nowe, zaskakujące smaki. Jesteśmy pewne, że jeśli go w sobie odkryjesz, nic nie będzie dla Ciebie przeszkodą.
Zastanawiasz się, jak znaleźć taki apetyt na język polski? Na pewno jest wiele sposobów, ale my mamy dla Ciebie dzisiaj taką propozycję: playlistę pełną świeżych i smacznych polskich piosenek. W końcu apetyt rośnie w miarę jedzenia!
Ile słów związanych z jedzeniem rozpoznajesz? Czy znasz inne polskie piosenki, w których jedzenie odgrywa ważną rolę? Daj znać w komentarzu.
Uwaga! Słuchanie tej playlisty jest ryzykowne: możesz się zrobić głodny/głodna jak wilk!
Smacznego! 🙂